Made to measure courses
We run residential courses in various equestrian disciplines: showjumping, dressage and working equitation. These courses can be organised for groups of six and more. See below for details of a typical training programme. These tailor–made training courses are designed to meet the specific needs and requirements of the participants in each group and we choose the coaches and horses depending on the participants level and goals. Riders might also attend  theses courses with their own horse.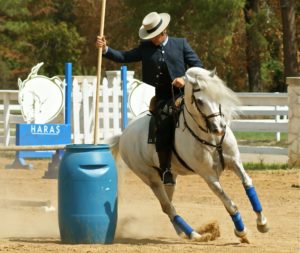 Maisons-Laffitte – a horse rider's paradise
Maisons-Laffitte is just half an hour outside Paris. The park covers 2/3 of the town and the town centre 1/3.  On the Avenue de Longeuil, a pleasant shopping street, take a journey back in time with a visit to the Epicerie de Longueuil, where you will discover delicious products from all over the world. The town centre boasts excellent butchers, bakers and cheesemongers. There is also a market every Wednesday and Saturday morning.
Maisons-Laffitte is a paradise for horse lovers. The hippodrome boasts the longest straight track in the whole of Europe. 54 trainers live in the town, which is also home to 1,600 horses.  We have superb training grounds for jumping, dressage and polo … and a spring-garden for competitions. In the Saint-Germain forest well-maintained bridal paths offer the possibility of riding for kilometres at a stretch. This is where the kings and their entourages used to hunt.
We offer visits to the hunting lodge of la Muette, built during the reign of Louis XV and much used by Napoleon III. The chateau of Maisons-Laffitte welcomed the young Louis XIV in 1651 for a sumptuous ball. The Sun King would later call upon the same sculptors and decorators who had worked at Maisons Laffitte for the construction of Versailles. It has even been suggested that the chateau of Maisons-Laffitte was a source of inspiration for Versailles… But what really sets Maisons-Laffitte apart is its unique atmosphere.
Basic programme
Day 1 (Saturday): Arrival (with transfer from airport if required). Settle yourself at your hotel. Guided tour by bike around town. Dinner with local Maisons-Laffitte horse riders.
Day 2 (Sunday): Training in small groups of 2 or 3. One morning session and one afternoon session. Lunch at the Polo Club.
Day 3 (Monday): Full day guided trek through the forest of Saint-Germain, including a picnic at lunchtime in the forest.
Day 4 (Tuesday): Training in small groups of 2 or 3. One morning session and one afternoon session. Lunch at the Pur Sang restaurant.
Day 5 (Wednesday):
Option 1: Mental coaching session to improve your competition performance and learn to deal with stress. The tools that you will acquire will be very useful both in competition and in your professional and personal life.
Option 2: French cooking class, in either French or English.
Option 3: Free day in Maisons-Laffitte or in Paris.
Last day: Transfer to the airport at the end of the day.
Accommodation:
Our seletion with a few ideas here
Bicycles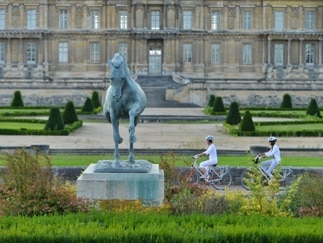 Riding the bicycle that is included in the cost of the course, you can easily make your way between your accommodation, local restaurants, the stables and the centre of town. Maisons-Laffitte is a relatively small town and no trip by bicycle will ever take you more than between 15 minutes. Cycling is also an excellent way to get to know the park and the town, as well as all the stables and horses.
Other options:
Guided tour of the racehorse training centre
Lunch and an afternoon at the races with the possibility of a behind-the-scenes visit
Guided tour of the Chateau of Maisons-Laffitte
Visit to the equestrian academy at Versailles