In the French kings and emperors footsteps, we will take you on a thrilling ride through the Saint-Germain-en-Laye and Marlys beautiful forests, on the fabulous trails.
At the time of the Sun King and Napoleon the forest of Saint-Germain was the largest hunting domain in the Paris area and we can still today see many signs like from that era. Our ride departs from Maisons-Laffitte, the City of Horses, situated only 20 minutes from central Paris. The beautiful park is the home of 1 600 horses, of which about half are race horses and the other half regular riding horses. The race course in Maisons-Laffitte has Europe's longest straight line. And last but not least, is located in the park, right by the River Seine a beautiful castle which once inspired Louis XIV to build Versailles. We will for three days to ride through three royal parks and discover three beautiful castles:
Saint-Germain-en-Laye : where the Sun King was born
Versailles
Maisons-Laffitte
Program
Day 1 : Arrival, transfer from the airport, installation in hotel Ibis. Guided bike ride in Maisons-Laffitte's park. Dinner together.
Day 2 : Breakfast at 7 am. Transfer to the stables at 8 am. We ride off at 9 am; out of Maisons-Laffitte's park, through the beautiful Saint-Germain forest on fantastic trails.
Our assistant prepares a nice, typical French picnic we eat on the terrace at Saint-Germain-en-Layes castle overlooking Paris.

We continue to Marly Forest, and Bailly. In the late afternoon we arrive at a beautiful courtyard where we install the horses and then relax around a BBQ. We sleep in a "gîte" – a French equivalent of bed and breakfasts, in modern, nicely furnished rooms.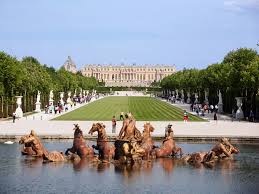 Day 3 : Breakfast at 7 am, we prepare the horses and ride away at 9 am.
The morning is spent discovering Versailles' unique and large castle park on horseback. We ride past the Trianon Palace and admire Versailles castle from different angles riding along the canal.  Our assistant meets up with lunch at a cozy place in Rennemoulin. During the afternoon we continue over Versailles' fields, through the historic village of Villepreux, famous for its castle from the 1700s and in the evening we stop in the picturesque Chavernay village. We install horses, eat a well-descerved dinner and sleep at a comfortable "gîte".
Day 4 : Breakfast at 7 am. We prepare the horses and ride away at 9 am. The morning ride starts in the plains but pretty soon we leave Versailles plain and ride into the Marly forest's lush greenery. Depending on the season the lunch will either be held in the form of a good French buffet served by our assistant or a restaurant where we can tie the horses outside.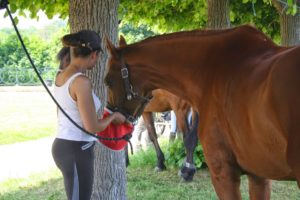 In the afternoon we will return to the Saint-Germain forest but now discovering another part of it and we ride past the "Pavillon de la Muette", Louis XV's beautiful little hunting lodge. Nap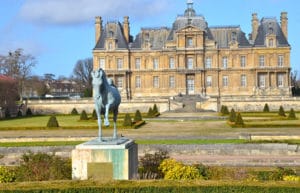 oleon also did spend some time here. The day ends with a short ride in Maisons-Laffittes' Castle park where we sit off and have a glass of champagne before riding back to the stables and saddle of. Dinner at a restaurant in Maisons-Laffitte. Night at the Hotel Ibis.
Dag 5 : Trip back home or continue your holidays in Paris maybe….
Dates 2018 
October 12th – 14th (October 11th – 15th)
Level
This trail ride is for experienced riders who are able to trot, canter and gallop.
Prices
Alternative A: 1 500 € 
Day 1 to Day 5 including
2 nights at hotel IBIS in twin or double room
Rent of a bike for one day
2 dinners at a restaurant in Maisons-Laffitte
Alternative B: 1 350 € 
Day 2 to Day 4 excluding
2 nights at hotel IBIS in twin or double room
Rent of a bike for one day
2 dinners at a restaurant in Maisons-Laffitte
Our rates are in EUR and include:
Rent of an equiped horse
Horseback ride led by a qualified horse riding guide or instructor.
Accomodation in twin, double or several beds' rooms in "gîte" or hotel
24H assistance team with car
Full board
Entrance fees for horses and riders to 3 castle parks
Trail ride material for horses and riders
Transport of riders luggage
Transfer between hotel, guest houses etc and the stables
Riding helmets, half chaps and fluorescent vests are available upon request.
VAT
Our rates do not include:
Riders personal equipement
Insurance
Cancellation insurance
Transfer from and to the airport
The following optional services might be booked through us at latest one month prior to arrival.  
Airport transfer.

Orly or CDG – Maisons-Laffitte : 100 € one way
Beauvais – Maisons-Laffitte : 150 € one way

Single room at hotel IBIS
The FFE (French Equestrian Federation) license which is recommended and includes an insurance.