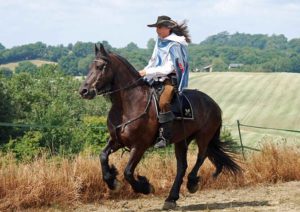 D'Artagnan is without a doubt the most famous Frenchman in the world. He carries through the narratives given by the novelists, in particular Alexandre Dumas, and, through the numerous films using his character, an image of panache, bravery and seduction.
This image is built on values of cooperation, solidarity, on the added value of the group vis-à-vis the individual. Cavalier Emeritus, d 'Artagnan, was born in Lupiac in the Gers region and died in the battle in Maastricht. He traveled through Europe on horseback in the service of King Louis XIV. We take you on a horseback trail throught varied landscapes crossing the Regional Natural Park of the French Vexin, the forest of Chantilly, the forest of Halatte and the forest of Compiègne. The trail begins at Marines and ends in Pierrefonds.
Accommodation : Hotels, guest houses and one night in lodge. Twin or double rooms. Bed linnen and towels are provided.
Lenght : 7 days and 6 nights (5 days on horseback)
Rate : 2 875 €
Dates : July 21 – 27, 2018  and May 3 – 9, 2019